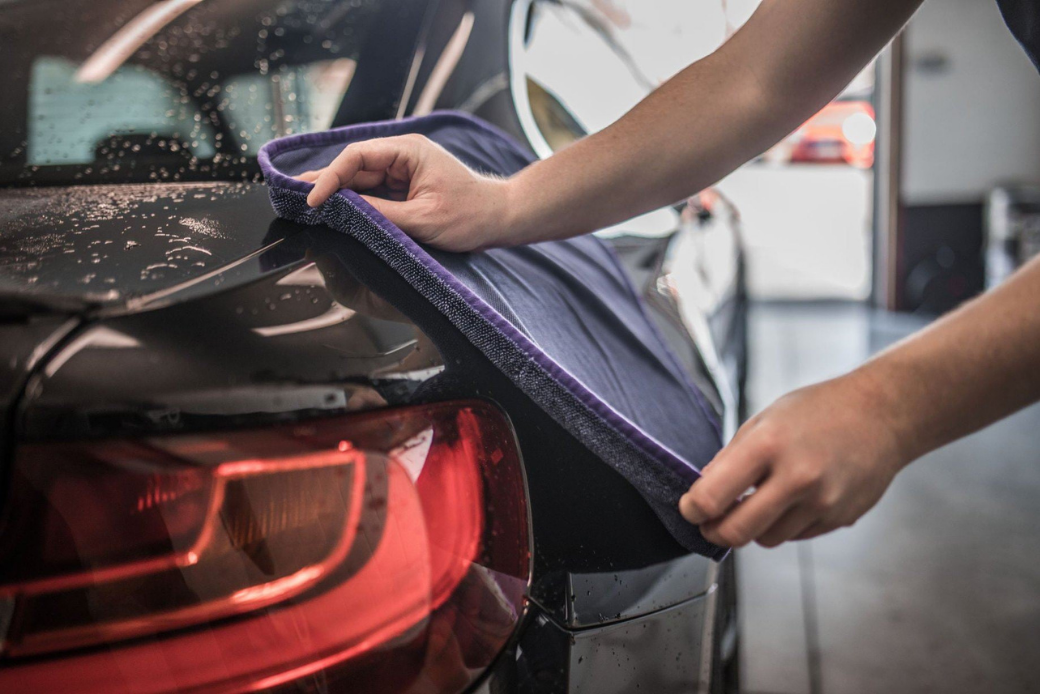 Gyeon Ceramic Coating Review
| Jeff McEachran
Paint protection films and ceramic coatings are in high demand and is a top priority for many vehicle owners. With the right products, your vehicle can stand out while maintaining exterior integrity against all harsh environmental conditions. In this article, we're providing a Gyeon ceramic coating review for all products that help with ensuring longevity for exterior paint protection options.

Car detailing and maintenance is an important factor that extends beyond the general upkeep of a vehicle's appearance. The detailing industry is on the rise with an average cost of $160.16 for detailing services nationwide, according to MobileTechRX and Yelp. With newer technology emerging, vehicle owners are finding new methods for protecting the investments they make when purchasing automobiles. Where polish and wax was once a critical component of car care, ceramic coatings are quickly becoming the new crave. Over the past several years, ceramic coatings have swept the detailing industry and become a crowd favorite for durability and ease of maintenance.
Reviewing Gyeon Ceramic Coating Products
It's a harsh world for a daily driver. Even with regular maintenance and detailing schedules, very little is considered effective when it comes to providing a vehicle with full appearance protection beyond 15 to 20k miles. Marring, small blemishes, scratches, swirls, and other debris collected from roads eventually build to the point of requiring attention. Many car enthusiasts are searching for products that can help make expensive ceramic coatings last longer. The average cost, according to JD Power, exceeds $1,000 for supplies and application.
Here's a compiled list of noteworthy Gyeon ceramic coating products, designed to extend the lifespan of paint protection film (PPF). Whether you're looking for a product to apply quickly, or one that adds a boost of shine, Gyeon Quartz offers a wide range of options. We're using select criteria in this Gyeon ceramic coating review. Some of the criteria include:
Ease of use

Durability 

Professional Finish
Trying new products and seeing the latest Gyeon ceramic coating review can help you make a more informed decision when selecting the best methods for protecting your PPF. 
Easy To Use Ceramic Coating Protection Products
Mechanically, sure, every car is different. When it comes to maintenance tasks for your vehicle, one job is universally needed among all cars: detailing. It is an essential component to help ensure the condition of your car whether you plan on keeping it for a short period or for the long haul.

Ceramic coatings offer a paint protectant, but come at a significant cost. These coatings are much like wax, but far superior. Essentially, it's a semi-permanent layer of protection that offers sound technology to help strengthen exterior surfaces and repel or release dirt and other harmful debris from damaging the outside of a vehicle. Protecting this ceramic protective coating can help maintain its strength and durability. 

Finding easy-to-use products that offer a quick way to upkeep your ceramic coating can make life a lot easier. Check out the following Gyeon Quartz ceramic coating review products that are so simple to use, it's practically automated:
Gyeon Q2 CanCoat
Gyeon Q2 CanCoat is a product you should have on deck if you're new to PPF or ceramic coatings. In fact, it's dubbed one of the easiest ways to enter the world of ceramic coatings due to its ease of use and outstanding hydrophobicity and immense gloss.

CanCoat is designed to be the fastest and most efficient way to install a true SiO2 based protective coating to your vehicle. With a simple spray on the products' included microfiber towel, you can easily wipe down your vehicle's paint. This spray outperforms any wax or sealant and offers real protection from UV and other chemical exposures. 
Gyeon Q2 One
Gyeon Q2 One is among the line of products designed for newbs to detailing and ceramic coatings. This easy-to-use detailing kit offers a single layer installation, candy gloss, and long term protection at a great price. If this is a first coating application, this product is essential to your detailing toolbox. It's specifically designed for DIY enthusiasts and commended for its impressive performance. The kit also includes Q2M Cure maintenance spray to keep the coating healthy and performing at the highest level possible.

One of the key characteristics of Q2 One is its unique self-cleaning ability. This can significantly extend the intervals between washes. It also makes it easier to remove residual dirt after a long drive in bad weather. Lastly, it keeps regular maintenance washes fast and efficient.  
Durable Ceramic Coating Products
Gyeon ceramic coating review products should include items that promote durability. A car's exterior is exposed to harsh conditions all year round. Finding a ceramic coating product that can help with appearance, but also increases protection from environmental impact can make a world of difference for your vehicle's continued maintenance. 
Gyeon Q2 PURE
Gyeon Q2 Pure is a professional grade ceramic hi-tech coating for outstanding detailing performance. It's among Gyeon's superb complementary series of advanced quartz based products for both enthusiasts and detailing professionals. It helps bring the appearance of paintwork to a new level, delivering pure candy gloss. 
Pure combines two crucial qualities of a great coating: high gloss and durability. It offers durable and highly chemical resistant protection against all environmental impacts, while still providing fantastic depth and key strengths. It's applied in a thick single layer that looks amazing and will provide long-term durability and protection.

The application process is three-fold. It's a very thick, resistant, one-layer ceramic coating. Taking a liberal amount of the product onto the provided coating applicator and using straight lines on the vehicle's surface can ensure a proper amount is distributed. Then, to level the product, use a foam applicator block in circular motions to move over it. Finally, take two microfiber towels to wipe away any excess PURE. It's important to leave the vehicle in a protective space for up to 24 hours after application for the best results and protection. For additional instructions and specs watch the ceramic coating tutorial here. 
Gyeon Q2 MOHS
If we're talking durability and hardness, nothing on the market compares with Gyeon Q2 Mohs. In fact, it's considered the hardest automotive paint coating available to a wide range of users, making the pain extremely resistant to scratches. It delivers crisp sharp reflections, real protection from chemical and UV impact, and long-term strength for exterior paints.

The application of this product is silky smooth. Apply two thick layers in a cross hatched pattern. It has a significant darkening effect and precise wipe off should be employed. As far as a Gyeon ceramic coating review, very few products on the market offer the same finish and protection as Moh's. This product can help protect your vehicle for up to 18 months when applied consistently. 
Gyeon Q2 SYNCRO
This silicone-based Q2 skin top coat elevates slickness, gloss and repellency to a different level. Gyeon Q2 Syncro is a professional coating experience outside of the Certified Detailer Program. Despite the three-layered application, both base and topcoat are user-friendly and easy to apply. This coating system provides immense benefits during daily maintenance routines, making regular car care less frequent and easier.  
Professional Finish Ceramic Coatings
Every paint finish is unique, but no less important. Depending on the age and condition of your car, different coating products can offer different end results. For professional grade finishes, it's important to understand how your vehicle looks and feels and find like-products to help improve overall appearance, performance, and protection. Here are some items to consider from Gyeon ceramic coating review line:
Gyeon Q2 Matte
This unique coating is designed specifically for matte and satin paint, PPF, or vinyl coatings. Gyeon Q2 Matte works to enhance the richness of color without altering the finish. In other words, it does not add gloss to a satin or matte paint. It's very easy to apply in one single layer and delivers real world protection against discoloration and oxidation.

The major benefit and demand for this product is its neutral finish. With highly advanced, silicon dioxide (SiO2) based formula, it's designed to provide full UV and chemical protection, as well as self-cleaning properties on the very demanding structure of matte paintwork. This kit also includes special hydrophobic spray-sealant and required applicators. 
Gyeon Q2 PPF
Paint protection film (PPF) is a newcomer to the detailing industry and in high demand. PPF is not just for luxury car owners anymore. As a transparent or colored application, these films offer a self-healing property that reduces risks of scratches and other exterior damages. With high durability, PPF can help with car maintenance and last 5-10 years when properly cared for, increasing the cars resale value and a number of other benefits.

Caring for PPF, once installed, is a bit of a challenge. Having the right product on hand can help to ensure your investment lasts. Gyeon Q2 PPF is a unique quartz coating designed specifically for Paint Protection Film. Q2 PPF is a very easy to apply flexible one layer coating for various types of PPF & vinyl. This product is designed to match and perform with all modern paint protection film structures and self-healing properties. It will also enhance color on both glossy and matte film without changing its finish. 
Gyeon Ceramic Coating Review Products
Every vehicle requires attention and maintenance to help maintain its value and promote longevity. Driving regularly and in harsh conditions can expose it to debris and environmental issues that cause scratches, swirls, and other imperfections or damages like rust build up and more. Finding the right type of ceramic coating products can help you maintain the integrity of a vehicle's exterior. For vehicle enthusiasts, the above Gyeon ceramic coating review products can help you get started with detailing your vehicle the best way possible.